Wineries & Vineyards

Surrounded in almost every direction by lakes, mountains, vineyards, and desert to the far south, the Jackson-Triggs Okanagan Estate vineyard covers 410 acres of some of the most rugged beauty found in British Columbia.
Jackson-Triggs Okanagan sources grapes from some of the most beautiful vineyards found in British Columbia, many of which have been leased from the Osoyoos Indian Band since 1998. These vineyards get plenty of sunlight thanks to the southwesterly exposure they enjoy along the striking mountain slopes stretching above Osoyoos Lake. High heat during the day is balanced by the nighttime cooling effect of the lake, providing optimum conditions for vine growth and grape ripening.
Aside from our prestigious vineyards, two of our best vineyards are Bull Pine and Bear Cub. The Bull Pine Estate Vineyard is 240 acres and planted with grapes that create our award-winning reds: Merlot and Cabernet Sauvignon, as well as the white varieties: Viognier, Sauvignon Blanc, and Chardonnay. The Bear Cub site, covering 186 acres, grows the same award-winning varietals as Bull Pine as well as our well-noted Shiraz grapes.
Visitors to the Jackson-Triggs Okanagan Estate's Tasting Gallery, or intimate groups of up to 20, get a rare glimpse into the complete wine tasting experience including unique varietals and limited edition wines only found at the winery. Alternately, you can enjoy this same experience on our outdoor patio.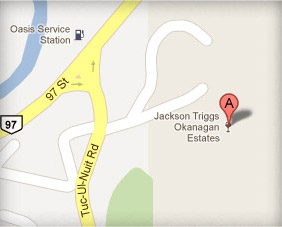 Jackson-Triggs Okanagan Estate Winery
7857 Tucelnuit Drive (Just north of Oliver,
off Highway 97)
Oliver, BC V0H1T2
Local: 250.498.4500
Toll free in North America: 1.866.455.0559
Fax: 250.498.4517
Email: OkanaganEstate@jacksontriggswinery.com