Past Performances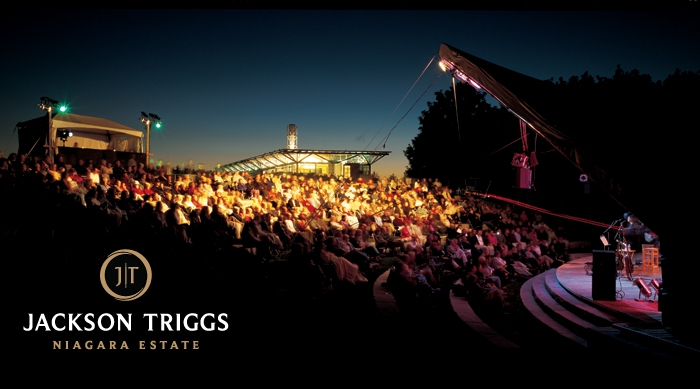 Summer Concert Series
Welcome to the Jackson-Triggs Niagara Estate Amphitheatre Summer Performance Series, where the perfect marriage of award-winning wines, gourmet cuisine, and brilliant Canadian talent come together in the vineyard, and 'under the stars'…
We are optimistic that we will still be able to host a condensed version of our Jackson-Triggs Summer Concert Series. Ticket launch will likely be delayed until mid-May. We hope to announce updates in the coming weeks.
Wine Club Members and Facebook Fans will receive advance notice of the line-up approximately one week earlier Join the Club!
Join our mailing list to stay up to date on concert announcements, winery events and exciting promotions.
---
2019
Sam Roberts Band (three performances)
July Talk
Moon VS. Sun, featuring Raine Maida & Chantal Kreviazuk (two performances)
Alan Doyle (two performances)
Serena Ryder (two performances)
The Sheepdogs (two performances)
Bruce Cockburn
Broken Social Scene
The Trews
The Rural Alberta Advantage and Yukon Blonde
Randy Bachman
Matt Andersen
Sarah McLachlan
The Jim Cuddy Band
Bahamas (two performances)
Matt Mays with Special Guest Ron Hawkins
Tom Cochrane
Dan Mangan
Donovan Woods
The Philosopher Kings (two performances; one was corporate event)
---
2018
Sam Roberts Band (three performances)
Whitehorse
Broken Social Scene
Serena Ryder (two performances)
Alan Doyle (two performances)
The Trews
The Sheepdogs
The Tenors (two performances)
Johnny Reid (two performances)
Matt Andersen
Finger Eleven: Acoustic
Moon VS. Sun, featuring Raine Maida & Chantal Kreviazuk (two performances)
Terri Clark
Bahamas (two performances)
Jim Cuddy Band
ROOTSTOCK: Fathers & Sons, featuring Jim and Devin Cuddy & Bill and Joel Plaskett
Joel Plaskett Emergency
Elliott Brood (corporate event)
---
2017
Sam Roberts Band (three performances)
Glass Tiger
Amanda Marshall
City and Colour
Alan Doyle & The Beautiful Gypsies with Skydiggers
Alan Doyle Trio
Alan Doyle & The Beautiful Gypsies with Hawksley Workman
Alan Doyle & The Beautiful Gypsies with Donovan Woods
Chantal Kreviazuk (two performances)
Matt Andersen
Dan Mangan with Hannah Georgas
Gordon Lightfoot
Whitehorse
The Trews: Acoustic
Rheostatics
The Sheepdogs
ROOTSTOCK featuring Torquil Campbell, Ron Sexsmith, and Bobby Bazini
Blackie & The Rodeo Kings
Bahamas
Jim Cuddy Band (three performances; one was corporate event)
---
2016
Sam Roberts Band (three performances)
Steven Page
Whitehorse
Jim Cuddy Band (two performances)
Colin James: Up Close & Personal
Moon vs. Sun featuring Chantal Kreviazuk and Raine Maida
54-40
ROOTSTOCK featuring Moe Berg, Chris Murphy, Craig Northey, and Steven Page
Alan Doyle & The Beautiful Gypsies (two performances)
Stars
Dan Mangan
Bruce Cockburn
Royal Wood & Special Guest Emilie Claire Barlow with the strings of Niagara Symphony Orchestra
The Trews
Bahamas
Arkells (two performances; one was corporate event)
Jim Cuddy Trio Winter Concert, Jackson-Triggs Barrel Cellar Studio
Royal Wood Winter Concert, Jackson-Triggs Barrel Cellar Studio
Chantal Kreviazuk Winter Concert, Jackson-Triggs Barrel Cellar Studio
Emilie-Claire Barlow Winter Concert, Jackson-Triggs Barrel Cellar Studio
---
2015
Sam Roberts Band (three performances)
Chantal Kreviazuk (two performances)
Whitehorse
Michael Kaeshammer with Niagara Jazz Festival
Jim Cuddy Band
Jim Cuddy & Special Guests Bahamas & Sarah Slean with Niagara Symphony Orchestra
Jann Arden (two performances)
Stars
ROOTSTOCK featuring Joel Plaskett, David Miles, and Mo Kenny (hosted by Tom Power)
Spirit of the West (two performances)
Arkells (two performances)
Steven Page (two performances; one was corporate event)
---
2014
ROOTSTOCK featuring Alan Doyle, Steven Page, and Lindi Ortega (hosted by Tom Power); Winter Garden Theatre, Toronto
Sam Roberts Band (two performances)
Jesse Cook
Alan Doyle
Chantal Kreviazuk
Colin James
National Youth Orchestra with Music Niagara
Justin Rutledge & Lindi Ortega
Kevin Breit & Mark Lalama with Food Day Canada 2014
Elton Lammie with Music Niagara
Stars
Cowboy Junkies
George St. Kitts (corporate event)
Niagara Jazz Festival featuring Heather Bambrick, Barbra Lica, John Neudorf, Chase Sanborn, Mark Kieswetter, and John Sherwood (Hosted by Jazz FM 91's Jaymz Bee)
Arkells (two performances; one was corporate event)
---
2013
Sam Roberts Band
Chantal Kreviazuk (two performances)
Steven Page
Natalie MacMaster
Arkells (Council of Federation event)
Quartetto Gelato with Music Niagara
Spirit of the West
Bruce Cockburn
Great Lake Swimmers & Elliott Brood
Alan Doyle (two performances; one was corporate event)
---
2012
Sam Roberts Band
Steven Page
The Tragically Hip
Johnny Clegg
Jarvis Church
Arkells (i4C event)
Adam Cohen with Niagara Symphony Orchestra
Kathleen Edwards
National Youth Orchestra with Music Niagara
Chantal Kreviazuk
Raine Maida
Sarah Slean & Royal Wood with Niagara Symphony Orchestra
David Usher (two perfomances; one was corporate event)
ROOTSTOCK featuring Chantal Kreviazuk & Raine Maida Winter Concert; Jackson-Triggs Great Hall
---
2011
Jeff Madden (corporate event)
Sam Roberts Band
Chantal Kreviazuk with Niagara Symphony Orchestra
Jann Arden
Gord Downie (two performances)
Colin James (two performances)
Serena Ryder & The Beauties
Spirit of the West
Joel Plaskett & The Emergency
Women Fully Clothed (Comedy Revue)
ROOTSTOCK featuring Alan Doyle, Kim Stockwood, John Mann, and Matthew Barber (hosted by Seamus O'Regan)
Hawksley Workman & Kathleen Edwards
Jarvis Church (corporate event)
---
2010
Tom Cochrane with Andrew Cole
The Canadian Tenors (two performances)
Gord Downie & The Country of Miracles
Chantal Krevaizuk & Raine Maida (two performances)
Michael Kaeshammer & Jill Barber
ROOTSTOCK featuring Hawksley Workman, Joel Plaskett, Sarah Slean, and Steven Page
Jesse Cook
Sarah Harmer
---
2009
Chantal Kreviazuk
Bruce Cockburn
The Canadian Tenors
Rufus Wainwright
ROOTSTOCK featuring Tom Cochrane, Jim Cuddy, Steven Page, Kathleen Edwards & John Mann (hosted by Alan Cross)
David Usher
---
2008
54-40
Colin James
Suzie McNeil (two performances)
Gordie Sampson with Kim Stockwood
Matthew Good
---
2007
Steven Page (two performances)
Philosopher Kings
Paul Brandt
Chantal Kreviazuk
---
2006
Jesse Cook
Natalie McMaster
Via Salzburg
Louise Pitre
The Jim Cuddy Band
Shaye
Philosopher Kings
---
2005
Sarah Harmer
Melanie Doane
Spirit of the West
Matt Dusk
Quartetto Gelato
Carmen La Gitana! with Jean Stilwell and Rex Harrington
Steven Page
---
2004
Colin James
Measha Brueggergosman with Niagara Symphony Orchestra
Michael Burgess
The Iron Mask (Silent Film with Graham Hargrove & Nicholas Coulter)
Jesse Cook
Amy Sky & Marc Jordan
Shaw Festival - "Bloomer Girl"
---
2003
The General (Silent Film withf Leslie Arden)
Mary Lou Fallis - "Primadonna on a Moose"
The Mark of Zorro (Silent Film with Graham Hargrove and Nicholas Coulter)
Cynthia Dale
Phantom of the Opera (Silent Film with Andrew Downing)
Peter Karrie
Fiddle on Fire
Our Hospitality (Silent Film)
The Cameraman (Silent Film with The Flying Bulgar Klezmer Band)
Niagara Symphony Orchestra
Southhampton Pops
The Mysterious Lady (Silent Film with The Kevin Quain Trio)
Melanie Doane (corporate event)
Shaw Festival - Cole Porter's Jubilee
---
2002
The Kiss (Silent Film with the Kevin Quain Trio)
Tapestry of Masters - Baroque & Classical Music
Toronto Symphony Orchestra - Mozart's Wind Sonata
2 Pianos 4 Hands - AboutFace Gala Event
2 Pianos 4 Hands
Shaw Festival - Panama Hattie
The Iron Mask (Silent Film with Graham Hargrove & Nicholas Coulter)
---
2001
Shaw Festival - Over the Rainbow: A Salute to Salutes Harold Arlen (Shaw Festival Musical Reading Series)